7th edition of the residual materials management symposium a resounding success
6 June 2023
The seventh edition of the Colloque sur la gestion des matières résiduelles des Premières Nations au Québec took place from May 30 to June 1, 2023 on the Ndakina in Nicolet under the theme of sharing.
Organized in collaboration with the communities of Odanak and Wôlinak, the event brought together 67 people, including 48 players from 22 First Nations communities and 2 regional groups, in addition to welcoming guest contributors.
The event was intended to be a major annual gathering of the First Nations WM community of practice, enabling participants to network with their peers. That's why, this year, the focus was on sharing. Whether it was the First Nations players highlighting their achievements, or the many workshops enabling WM operators and managers to co-create solutions, mutual support and a sense of community were at the heart of these three days.
Topics covered included composting, ecocenters, community mobilization, financing, environmental contaminants, awareness and communication. It's a safe bet that everyone found something to their liking.
In addition, two kiosks were set up to involve stakeholders in the community of practice and in the development of version 2 of the interactive map.
We hope that this gathering will have helped build bridges and equip First Nations WM stakeholders to work towards the common goal of protecting the land through sound waste management.
We'd like to thank the W8banaki Nation communities of Odanak and Wôlinak for welcoming us to their ancestral land, and all the First Nations WM players who attended. Special thanks to Stéphanie Harnois and Clarisse Bernard. Thanks to them, we were able to visit the WM infrastructures in Odanak and Wôlinak, as well as discovering Wabanaki traditions. Many thanks to Gabriel Bordeleau-Landry, who performed a traditional song at our closing ceremony.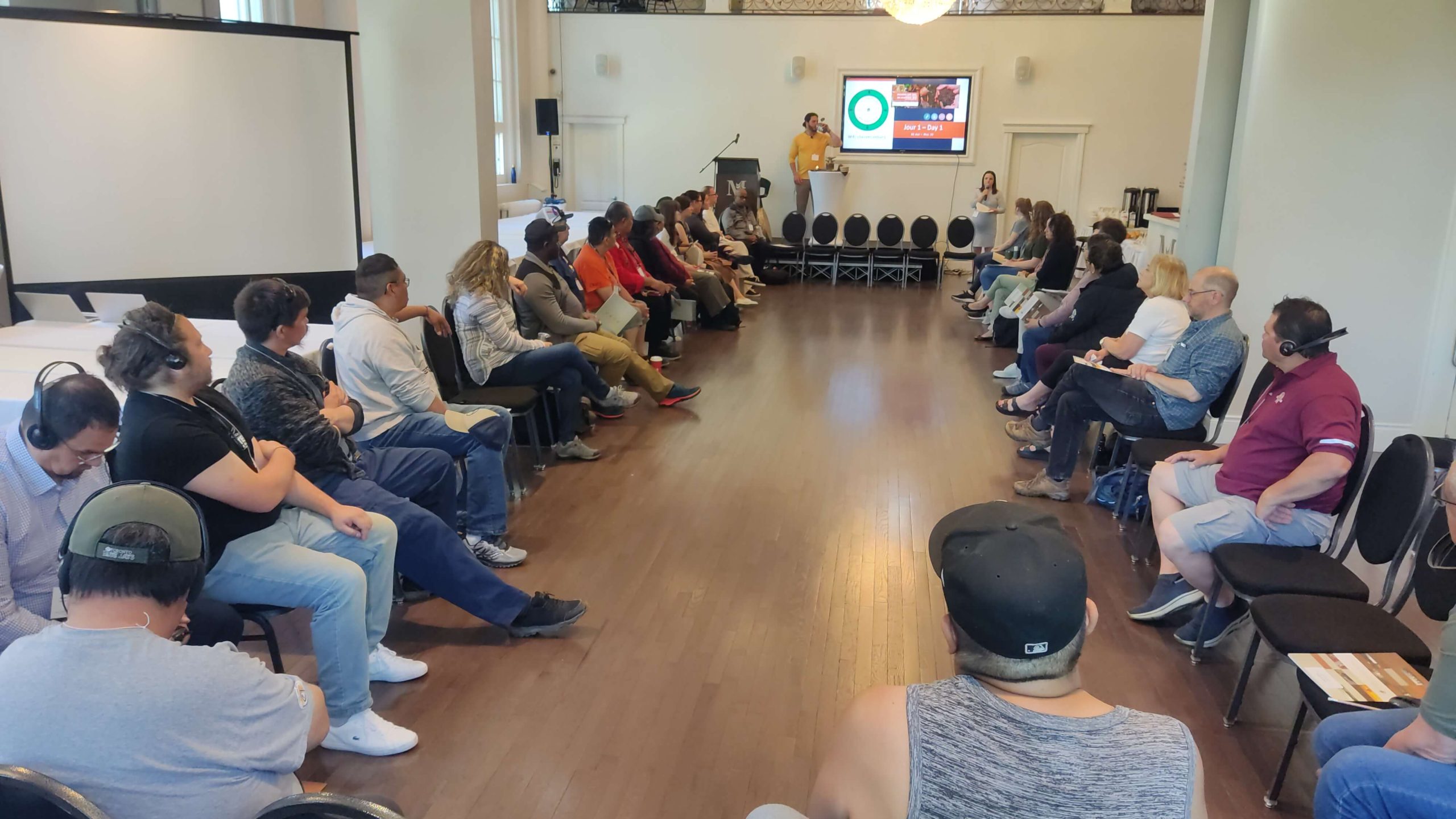 Finally, a big thank you to everyone who presented or hosted at the event: Johnny Wylde from Kina8at, Marie-Christine Roussel Gray – Listuguj Environmental Coordinator, Matt Chevrier – Kebaowek Ecocentre Administrator, Gabrielle Lamouche – Kanesatake Communications Officer, Paul Rabbitskin – Mistissini Public Services Officer, Isabelle Déry – Senior Environmental Advisor from Indigenous Services Canada, Anita Devadason – Program Manager, First Nations and Inuit Health Branch, ASC, Eugene Nicholas – Director of Ratihontsanonhstats Kanesatake Environment, Isabelle-Anne Bisson, President of TerraHumana Solutions, Fanny Jahan – Coop FA Environmental Project Officer, Iotshatenawi Reed – Communications Officer, Holly McComber, Director of Waste Management for Kahnawà:ke, Iotshatenawi Reed – Communications Officer for Kahnawà:ke and Marie Poirier, Executive Assistant and Ecocenter Manager for RIGIDBNY.
Wli Wni, Thank you all for contributing to the success of this event.