About us
A dedicated, accessible unifying force
Photo credit: Theresa MacLeod Loon
Our team of dedicated, open-minded and friendly professionals is proud to share its expertise with First Nations.
Serving First Nations
Created by the Assembly of First Nations Quebec-Labrador, our organization has been working with First Nations for over 20 years to help them achieve their sustainable development objectives.
Collaborate with First Nations in implementing their vision for sustainable development.
We support First Nations in their sustainable development efforts to have healthy lands and resources and sustainable communities; to fully exercise their rights, responsibilities, and jurisdiction; and to promote their cultures and languages.
Increase the number of sustainable development initiatives of the First Nations of Quebec and Labrador.
Our goal is to ensure that the First Nations of Quebec and Labrador have the resources they need to exercise their self-determination and implement their vision for sustainable development in every initiative that they undertake.
Our daily work
is guided by the following
values
We respect the land, resources, communities and partners connected to the FNQLSDI. We respect the knowledge and different cultures and recognize their full contribution to achieving our actions. We consider the impact we have on the land, individuals, and next seven generations.
We act with and for First Nations. We base our decisions and actions on this willingness to come together and work toward a common goal. We build connections and strong relationships with all individuals, both inside and outside the communities, to move forward together undertaking sustainable development initiatives.
We make commitments and work carefully to fulfill them, while respecting relationships. We take our promises seriously and pour all our resources and tools into meeting the needs of First Nations.
We bring stakeholders together to support First Nations' sustainable development actions. We create spaces for them tounite their strengths and achieve a common goal. We help mobilize Indigenous leadership, knowledge and expertise.
1997
In January 1997, the Assembly of First Nations Quebec-Labrador (AFNQL) decided to appropriate the Sustainable Development Strategy process of Indian and Northern Affairs Canada to define its own strategy. The AFNQL confirmed this action in its resolution of February 20, 1997.
A technical committee then developed the first version of the First Nations of Quebec and Labrador Sustainable Development Strategy, which the AFNQL adopted in November 1997.
2000
In 2000, the AFNQL created the First Nations of Quebec and Labrador Sustainable Development Institute, whose mandate is to implement the Strategy and support First Nations in realizing their vision of sustainable development.
2006
The updated Strategy, published in 2006, revises the definition of sustainable development. It highlights key issues for First Nations, particularly in relation to rights, culture and languages, land, and socio-economic, political and management aspects. It includes a number of solutions and recommendations, as well as a proposed action plan for the implementation of sustainable development by and for First Nations.
2023
After more than two decades of continuous change in our organization, we have embarked on a strategic thinking exercise to clarify our mission, vision and values. We have also taken the time necessary to focus our actions on the needs and issues of First Nations.
To support this approach, we have created a new brand image that better reflects our values and identity. We have also redesigned our website. Our goal is to make the full range of our services and resources more accessible to help First Nations implement their vision for sustainable development.
The feather
Found in many First Nations cultures, the feather is a powerful Indigenous symbol of courage, strength and respect.
In our logo, the feather reaffirms our Indigenous identity and illustrates our commitment to and respect for different cultures. It also represents nature and wildlife.
Tree rings
Tree rings represent our connection to the land and the inextricable link between past and future generations.
Our actions, rooted in the knowledge and traditions of past generations, are carried out with an eye to their impact on the land and future generations.
Water ripples and drum vibrations
This visual element represents both the ripples of the water and the vibrations of the drum. The ripples in the water are a reminder of the impact of our actions on the land and on living things. The vibrations of the drum evoke the unifying power of the drum and the inextricable link between culture and land for First Nations.
We are recognized for our ability to bring together stakeholders to support First Nations' sustainable development actions and enable them to join forces to achieve this common goal.
The circle
The circle is a powerful symbol. It has no beginning and no end. It represents the cycles of life and the seasons, as well as notions of equity and interconnectedness between people, land and animals.
We recognize this interconnectedness and the fact that everyone has a role to play in achieving the goals of sustainable development. That's why working with all stakeholders and respecting knowledge and different cultures are at the core of everything we do.
Journey deep into the land through the photography and artistic vision of First Nations
With our new brand image and website, it was important for us to showcase Indigenous artistic talent. We are honoured to work with photographers from different Nations and display their art.
Their photographs transport us to the land, allowing us to contemplate the flora and fauna, as well as highlighting the cultures. We encourage you to learn about these artists, browse their portfolios and journey into their world.
I was born in Sudbury, Ontario, on November 13, 1989, but grew up in Ottawa. I've lived in many different places throughout my life, from an isolated community on the tundra of Nunavik to a booming city like Ottawa in southern Ontario. This has given me the opportunity to experience all kinds of lifestyles.
I've always been drawn to art, but it wasn't until I picked up a camera that I was really able to express my own art form to the world. Since I picked up a camera and pressed the shutter button, that's pretty much all I want to do, and I don't regret it at all. I love being in nature—it's where I feel most comfortable and at peace. That's why landscape and wildlife photography was my first passion when I started composing photos.
As my career progressed, I became interested in other types of photography, such as portraiture, astrophotography and urban photography. I'm a self-taught photographer who relies on YouTube and trial and error to learn and to improve my photography skills. I can't wait to see where this road takes me, even if this is more of a hobby than a career. I'm going to continue my journey, and I hope that you all enjoy it as much as I do. Thank you for your attention. Yours sincerely.
Johnny Boivin is a multidisciplinary artist of Innu and Atikamekw descent. His photography, like his art in general, is inspired by the lands that surround him, including those of his ancestors and those he has visited several provinces or states away. Like a film, Johnny's photographs aim to evoke memories, to make each snapshot an almost tangible souvenir, where even smells and temperatures can be conveyed in each image.
Theresa MacLeod Loon is a Cree photographer from Mistissini. She has had a passion for the arts from an early age, including drawing, beading, sewing and photography. Theresa provides a wide range of photography services to her community and the region.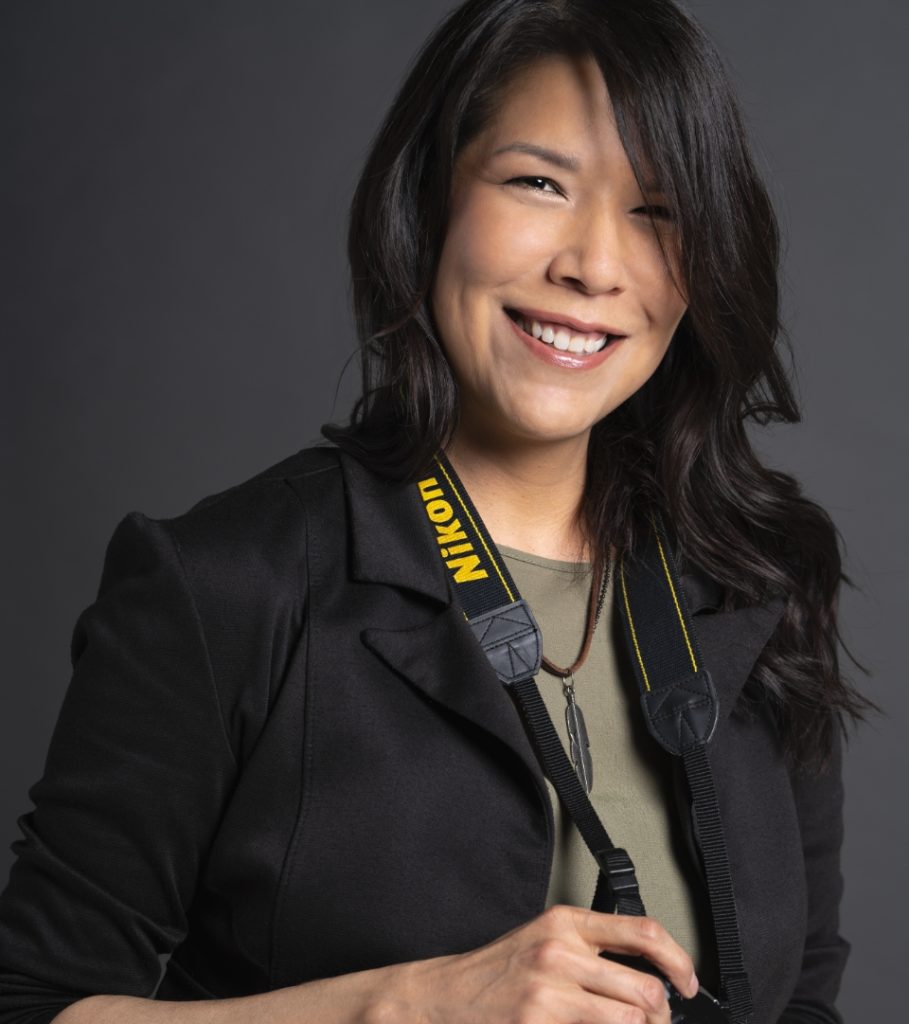 I am from the Innu community of Pessamit. As a teenager, I didn't understand what it meant to be First Nations and as a result, I felt little pride in my heritage.
Fortunately, with everything I've heard, seen and learned in my life, I've finally come to understand who I am and what we are.
I studied to work in social services, and I'm still involved in a number of projects that allow me to contribute to the well-being of communities.
Throughout my education, I've always explored my artistic side, both in music and the visual arts.
That's why I decided to go back to school and study photography.
Now, through my photography, I want to share what makes us special and what it really means to be a full-fledged member of the First Nations.
Every year, we work with First Nations to implement their sustainable development projects.
Learn more about the Assembly of First Nations Quebec-Labrador and its commissions
Photo credit: Isaac Trapper